Disaster risk reduction: preventing suffering before it happens
Knowledge about the causes and effects of natural disasters has never been greater. The results can help make disaster preparedness more effective and thus save many lives in the future. The need is urgent: in 2019, almost 95 million people worldwide were affected by an increasing number of natural disasters and extreme weather events.
Together with our local partners, we are therefore committed to forsighted prevention work to better protect people against future disasters.
People's vulnerability determines the degree to which they are affected: if individuals, families or entire communities have not put in place strong structures or preventive measures, they can do little to counteract external negative influences. The rehabilitation of nature, the sustainable use of resources and the decisive involvement of affected communities with their local knowledge are crucial to strengthen resilience. Our various projects, for example in Indonesia and the Philippines, but also in Kenya, show how diverse this can be.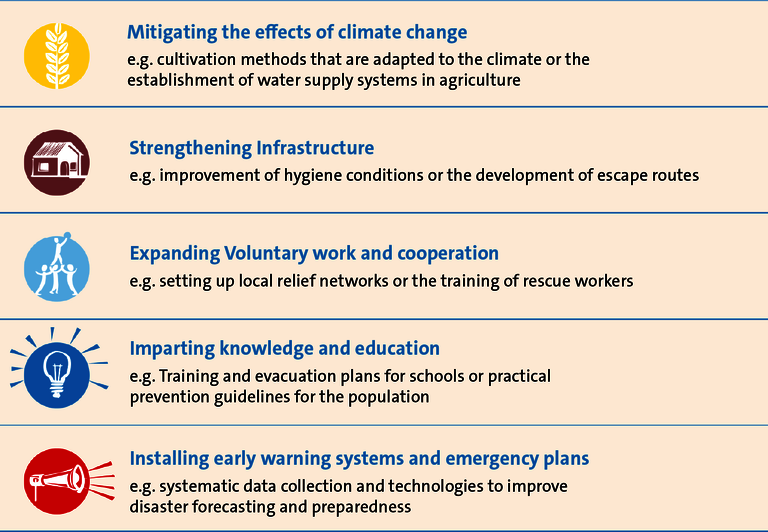 Preventing suffering together: Aktion Deutschland hilft
As a founding member of the "Aktion Deutschland Hilft" alliance, we have been providing emergency and disaster relief together for two decades. Because sustainable disaster preparedness spares people in risk areas great suffering and helps to reduce the global need for humanitarian aid.
With a large-scale anniversary campaign entitled "Be Faster than Disaster", the Alliance is marking its 20th anniversary this year by drawing attention to the increasing relevance and urgency of disaster risk reduction in view of the rise in natural disasters and extreme weather events as well as a growing world population.