COVID-19 Informationen
Here you can find out more about our current visiting regulations as well as interesting facts about the Coronavirus and the current vaccinations.
Corona: New visiting regulations at the Johanniter Clinics in Bonn starting on Friday, 20 August 2021
Dear visitors,
we are pleased to announce that visiting your relatives in the Johanniter clinics (Johanniter-Krankenhaus and Waldkrankenhaus) is possible again.
To protect our patients in the best possible way, the following rules apply for visits starting from Friday, 20 August 2021
Each patient can receive a maximum of two visitors (also at the same time) per day.
The daily visiting time is limited to the period from 3.00 pm to 6.00 pm. We ask you to limit visits to 60 minutes.
At the main entrance, each visitor must register via the VIDAgo app. To avoid waiting times, we recommend downloading the free app at home beforehand.
Admission is only permitted for fully vaccinated, recovered or tested persons.
A negative rapid antigen test or a negative PCR test < 48 hours is required. Alternatively, proof of complete vaccination protection or a certificate of recovery applies.
Medical mouth/nose protection (e.g. surgical mask or FFP2 mask) must be worn at all times during the stay in hospital.
In addition, the minimum distance of 1.5 m from other persons must be observed.
Furthermore, the usual hygiene rules must be observed.
Excluded from this ruling are:
Johanniter Hospital palliative care ward: Here an individual assessment is made by the medical staff. It can be requested for the Johanniter-Krankenhaus here +49 228 543-2235
Johanniter Hospice: Unrestricted visits are possible in accordance with the German"3G-rule" (fully vaccinated, recovered or tested). Call: +49 228 383-80139
Delivery room: Here expectant mothers can be accompanied by one person during birth and the period afterwards. In the event of a caesarean section (c-section), one person may also accompany the mother into surgery. Call: +49 228-543-2408
Maternity ward: Here pregnant women and women who have recently given birth may be visited by one person for two hours every day. Call: +49 228 543-2425
Short-term care: For current regulations, call 0228-383-408
"Together against the Coronavirus"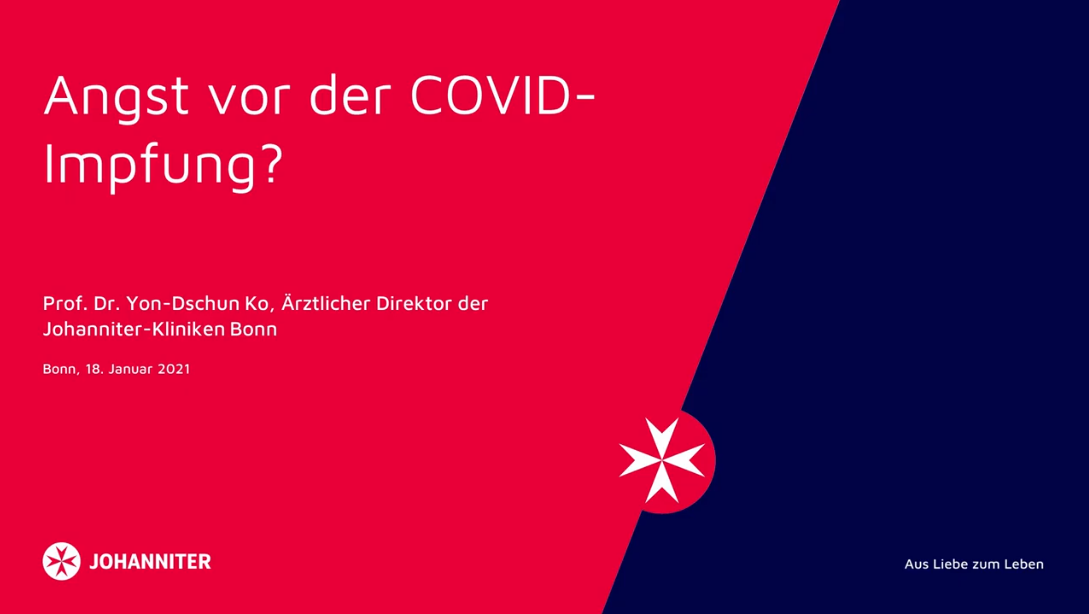 Click on the button to load the content.
The Coronavirus has been dominating the daily lives of people around the world for months. According to the Robert Koch Institute's Standing Commission on Vaccination, effective and safe vaccinations can make a decisive contribution to containing the COVID-19 pandemic. The vaccines now approved for the EU are therefore an important step in the fight against the virus, but many people have concerns and are unsure whether they should get vaccinated.
Prof. Yon-Dschun Ko, Medical Director of the Johanniter-Clinic Bonn answers common questions about the current Corona vaccination in an interview (German language).