General and Visceral Surgery
The Ward of General and Visceral Surgery deals primarily with benign and malignant diseases of the abdominal organs, and thyroid surgery.
In the case of unclear clinical pictures of the abdominal cavity, patients are admitted to the hospital's interdisciplinary Abdominal Centre. This joint department with the Clinic for Gastroenterology (head physician Dr. med. Winkler), which we've led for 7 years, enables us to quickly clarify all unclear clinical pictures in a precisely defined process in order to finally make a joint therapy decision.
Our services
General surgery
Abdominal surgery/Gastrointestinal surgeries
Thyroid surgery/cold thyroid nodule treatment
Gallbladder surgery/Cholecystectomy (gallbladder removal)/inflamed gallbladder/gallstone removal
Small and large intestine operations
Operations on the rectum and anal canal
Treatment of abdominal wall hernias/inguinal hernia repair
Hernia surgery/epigastric hernia/incisional hernias/femoral hernia/hiatal hernia
Pacemaker implant/adjustments
Minor urological procedures/inguina hernia/testicle rupture
Removal of skin lesions and tumours on the trunk and extremities
Intestinal obstruction surgery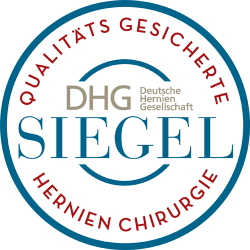 Awards and studies
Our clinic was awarded the seal of providing "Quality Assured Hernia Surgery" ("Qualitätsgesicherte Hernienchirurgie" ). We have been participating in the international Herniamed study for 6 years.
In addition, we have been participating in the quality studies "Thyroid Surgery" and "Colon Surgery" of the German Society for General and Visceral Surgery (Deutsche Gesellschaft für Allgemein- und Viszeralchirurgie - DGAV) , and have been participating in the Lower Saxony Cancer Registry (Krebsregister Niedersachsens) for 3 years.
Of course, minimally invasive surgery (keyhole surgery) is an integral part of our therapeutic repertoire and is used whenever possible in the interest of rapid patient recovery. Minimally invasive surgical techniques not only ensure less pain, but also shorten the duration of inpatient treatment and enable patients to recover more quickly.
However, open surgical techniques also continue to have their justification in certain clinical pictures and are applied in a differentiated manner.
In the case of tumour disease, we work together interdisciplinarily with the Oncology Clinic of the St. Bernward Hospital, among others.
Malignant thyroid diseases are treated together with the radiotherapy department of the Henriettenstift Hannover.
About your stay
Find out more about your stay in our clinics.