Our International Activities Report 2019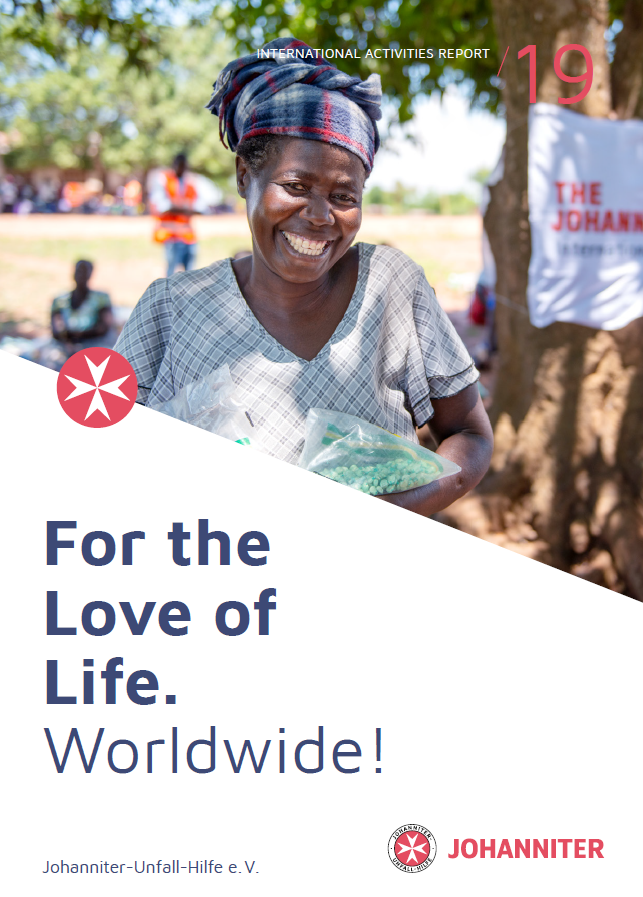 Berlin, 11 August 2020
Our International Activities Report 2019 takes a closer look at our activities in Mozambique after cyclone Idai or the Ebola outbreak in the Democratic Republic of Congo. Furthermore, we do not close our eyes to the events in 2020: COVID-19 is an enormous challenge, especially for countries with a weak infrastructure.
More than 168 million people worldwide are dependent on humanitarian aid. This number has drastically risen in recent years. Climate disasters, prolonged conflicts and people fleeing are the main causes.
The main focus in 2019 was on health, but also on access to clean drinking water and hygiene, and the treatment of malnourished people. A special task was the deployment of our Emergency Medical Team after cyclone Idai, which hit Mozambique severely in March. " Our team showed what effective disaster response looks like in practice", explains Wesemann. Following the emergency response, Johanniter and its local partner organisations supported the reconstruction after the disaster.
Lived Partnership
Not only in Mozambique, but also in many other countries, it is our 51 partners who make the difference on the ground. They know the communities, their needs and hardships. Together with them, we were again able to provide targeted and needs-oriented support where it was most needed. One figure in particular expresses our confidence: 28 percent. This is how much of our humanitarian programme spending was passed on by Johanniter to its partners last year. "This means that we have more than fulfilled our obligations to Charter for Change, which we are very proud of," says the Head of International Assistance.
Project Adjustment Due to COVID-19
In view of the enormous challenges posed by the Corona pandemic, we have adapted our global activities and included them in our report. Many countries are now confronted with the virus in addition to conflicts, large refugee camps, plagues of locusts or famine. Together with our partner organizations, we inform people about the virus and help them to protect themselves from infection, whether through hand washing stations, hygiene products or protective equipment.
New Brand Identity
Our International Activities Report 2019 has been completely redesigned. This is a foretaste of the new brand identity of the Johanniter family, which we will make shine across all our channels in the coming weeks and months.
Here you can download the International Activities Report 2019 as PDF file.