We ensure survival before and after disasters
Due to conflicts and wars, disasters, pandemics and the consequences of climate change, the worldwide need for humanitarian aid and forward-looking disaster preparedness has increased in recent years. According to the United Nations, 339 million people will be dependent on humanitarian aid for their survival in 2023. Preventing disasters and ensuring survival after a disaster are core tasks of Johanniter International Assistance.
Disaster Risk Reduction: Preventing Suffering Before it Happens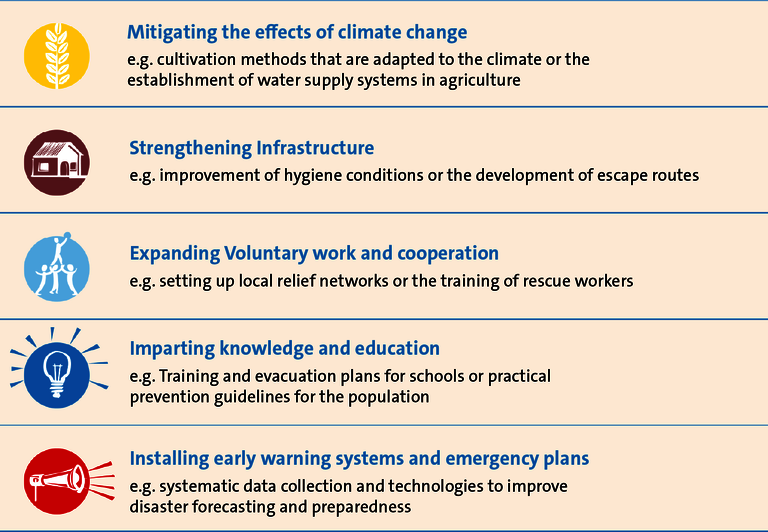 Together with our local partners, we are therefore committed to forsighted prevention work to better protect people against future disasters. People's vulnerability determines the degree to which they are affected: if individuals, families or entire communities have not put in place strong structures or preventive measures, they can do little to counteract external negative influences. The rehabilitation of nature, the sustainable use of resources and the decisive involvement of affected communities with their local knowledge are crucial to strengthen resilience. Our various projects, for example in Indonesia and the Philippines, but also in Kenya, show how diverse this can be.
Emergency Response: Ensuring Survival after Disasters
With the distribution of relief goods or financial resources, we improve the basic essentials for people in need. In doing so, we are guided by concrete needs and international humanitarian sphere standards to ensure the quality and efficiency of our aid. Wherever possible, we seek to cooperate with local partner organisations at an early stage. For us, humanitarian emergency aid is usually the starting point for a sustainable and longer-term commitment. In addition to reconstruction, we want to strengthen the resilience of affected families and communities in order to better overcome future crises. Especially for refugees and internally displaced persons, we want to strengthen social and economic integration through access to health care, education and work.
Our Emergency Medical Team
The right to assistance, protection and a life in dignity applies at all times and especially to people in need. After disasters, our Emergency Medical Team (EMT) of volunteers assumes the outpatient medical care of affected people and facilitates access to clean drinking water. Our EMT was classified as an "Emergency Medical Type 1 Mobile" by the World Health Organization WHO in 2017. Each measure and each deployment is closely coordinated with actors in the humanitarian system.