COVID-19 in crisis-ridden Afghanistan
Berlin / Kabul, 13 April 2020
More and more people around the world are being infected with the COVID-19 virus, and the number of those infected is also increasing in Afghanistan. The fragile health care system could hardly react to a nationwide outbreak. Johanniter therefore supports the health authorities in screening, education and protective equipment for staff and patients.
In Afghanistan, the first case of COVID-19 was already reported at the end of February. In the meantime, the number of infected people has risen to over 700. 23 people have already died. A country marked by decades of war and political unrest is barely able to provide adequate medical care for its people. The underdeveloped health system would be completely overwhelmed with a large number of people infected with COVID-19. "More than 100,000 people could die," fears the Afghan Ministry of Health.
We at Johanniter have been active in Afghanistan in the health sector for years. That is why we have included measures to protect against the virus in our activities. In three regions of the country - Kunduz, Khost and Kabul - we are helping to minimise infection rates.
For example, fever screenings are carried out on important access roads to major cities. Information material consisting of posters, flyers and stickers was produced and, for example, displayed and distributed in Kabul's informal settlements. Furthermore, we support the families with hygiene material.
Support for partners in border regions
We also support our local partner organisations "Just for Afghan Capacity Knowledge" (JACK) in Kunduz and "Afghanistan Centre for Development and Training" (ACTD) in Khost with protective equipment, masks and disinfection material for the medical staff in the clinics.
"The majority of the population in Afghanistan lives below the poverty line. With the outbreak of the virus, their situation will deteriorate enormously if we do not support them," says Helen Guillermo, Senior Programme Manager of Johanniter in Afghanistan. You can watch the interview with Helen Guillermo here.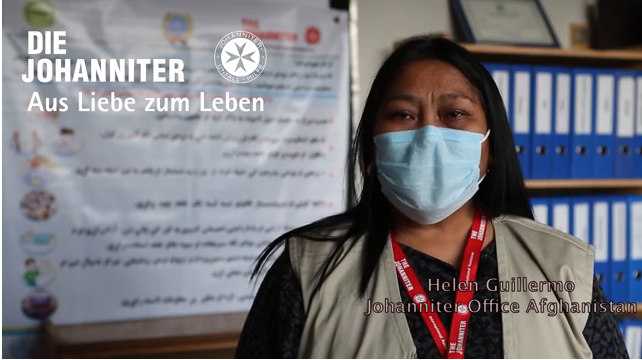 Click on the button to load the content.
What we do against Corona worldwide
We are adapting our current project activities to respond to the worldwide corona pandemic.