Johanniter Expands Relief for Lebanon
Berlin / Beirut, 20 August 2020
Expert team supports emergency relief in Beirut and prevention measures against the spread of COVID-19
Following the explosion in the port of Beirut and the resulting deterioration in hygiene conditions, the corona infection rate is currently rising significantly in Beirut and the whole of Lebanon. While at the beginning of the week there were around 430 new infections daily, the number had already risen to 589 registered cases by Wednesday. The authorities are now reacting to the sharp rise with a 14-day national lockdown. All public facilities will remain closed, and there will be a curfew from 6 p.m. to 6 a.m.
A team of Johanniter experts has been in Lebanon since the beginning of the week to investigate further relief measures for those affected by the explosion, and to initiate them together with the partner organisation Naba'a. This does not only concern immediate measures, such as the distribution of food parcels and cash for particularly affected families, but also measures to contain the corona virus.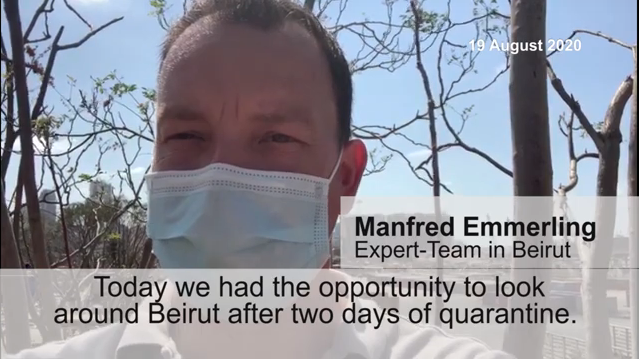 Expert trains in prevention measures against COVID-19
Dr. Gerald Ripberger, physician and Johanniter volunteer, will conduct workshops on Saturday, 22 August, on how to handle COVID-19 in the palestinian camps in southern Lebanon. Johanniter currently provides vocational training for 540 young refugees here.
"The cramped living conditions, communal sanitary facilities, and the lack of testing and tracking facilities for infected persons and contact persons favour the spread of the virus. Access to education is also usually significantly more difficult. The resulting lack of knowledge about the necessity and application of preventive measures makes the situation worse," fears Dr. Ripberger.
Aid measures excluded from lockdown Johanniter's activities will not be restricted despite the beginning lockdown in Lebanon.
The expert team consists of
Linda Zimmermann, project coordinator for the Middle East at Johanniter International Assistance, is examining further relief measures for those affected by the Explosion
Manfred Emmerling, Logistics Coordinator at Johanniter International Assistance and Johanniter volunteer for many years, supports and advises our local partners on logistics issues
Dr. Gerald Ripberger, a long-time volunteer emergency aid worker with Johanniter, works full-time at the Robert Koch Institute in Berlin as a medical emergency response advisor at the Centre for International Health Protection. He trains partner organisations as well as residents of palestinian camps in preventive measures against COVID-19, and is currently assessing the need for further medical relief measures in Beirut.
Background
On August 4, a warehouse in the port district of Beirut exploded. The detonation killed over 170 people and injured more than 6,500. Large parts of the city were destroyed or damaged. Lebanon has been suffering from a severe economic crisis for some time. The Corona pandemic has exacerbated the situation in the country. Unemployment has risen sharply, as have the prices of food, which has particularly affected the poorer population and around two million refugees in the country.
What we do against Corona worldwide
We are adapting our current project activities to respond to the worldwide corona pandemic.