Escape from ruin
Berlin / Medellín, 20 December 2018
At least one million people have left Venezuela for Colombia in the last months. They are fleeing from hunger, hyperinflation and economic decline that has controlled the oil-rich country for years. Sergio Lacruz sought refuge in the Colombian city of Medellín in June 2018. There, Johanniter is supporting stranded migrants from Venezuela as well as internally displaced Colombians.
The frame is broken, the lenses scratched. Sergio Lacruz repeatedly aligns the crooked glasses on his nose. Uselessly. He takes them off and puts them aside with stoic calm. "I used to work as a lawyer in Venezuela," says the 56-year-old calmly and with thoughtful words. "Then the law firm had to be reduced from 16 to four lawyers. I stayed with the team. Shortly afterwards the office had to close. I no longer earned any money to keep my family afloat." When his mother died, he decided to migrate to Colombia with his son.
Sergio's wife is Colombian. That is why the neighbouring country was the first option for him. She herself came to Venezuela 34 years ago to escape the problems in her own country. For decades, millions of Colombians have found a new home in Venezuela after fleeing threats and violence by armed groups. Residential areas like Comuna 8 stood for rampant violence and were under the control of armed gangs for many years. Some of them are still there today. Sergio says that his wife does not want to return to Medellín, where family members still live. She remained in Venezuela. "Here I am now, but I don't get any support from the family," says Sergio. He keeps the backgrounds to himself.
Life in a chamber
In Comuna 8 on the eastern slope of Medellín, he lives with his son on less than four square metres. In one half of the room his bed and that of his son are on top of each other. Next to it is a small kitchen area, behind the door a hole punched in the wall with a toilet in it. Only one person can stand in the windowless room. He has to pay around 20 euros a month for it, but that's all he can afford. To earn some money, Sergio either sells sweets in the city centre or helps out at the district council.
The head of the district council is Antonio. He is the driving force and tries day and night to solve the many problems in the district. These range from prostitution and gang crime to drug consumption. The seat of the representation resembles an anthill. In the basement, women sew blouses and uniforms for schools, others learn the profession of seamstress. One floor above, a group of elderly people make jewellery. On the first floor health services are provided. These services are carried out regularly as part of a humanitarian aid project run by Johanniter together with the Las Golondrinas Foundation.
Psychosocial counselling also for Venezuelans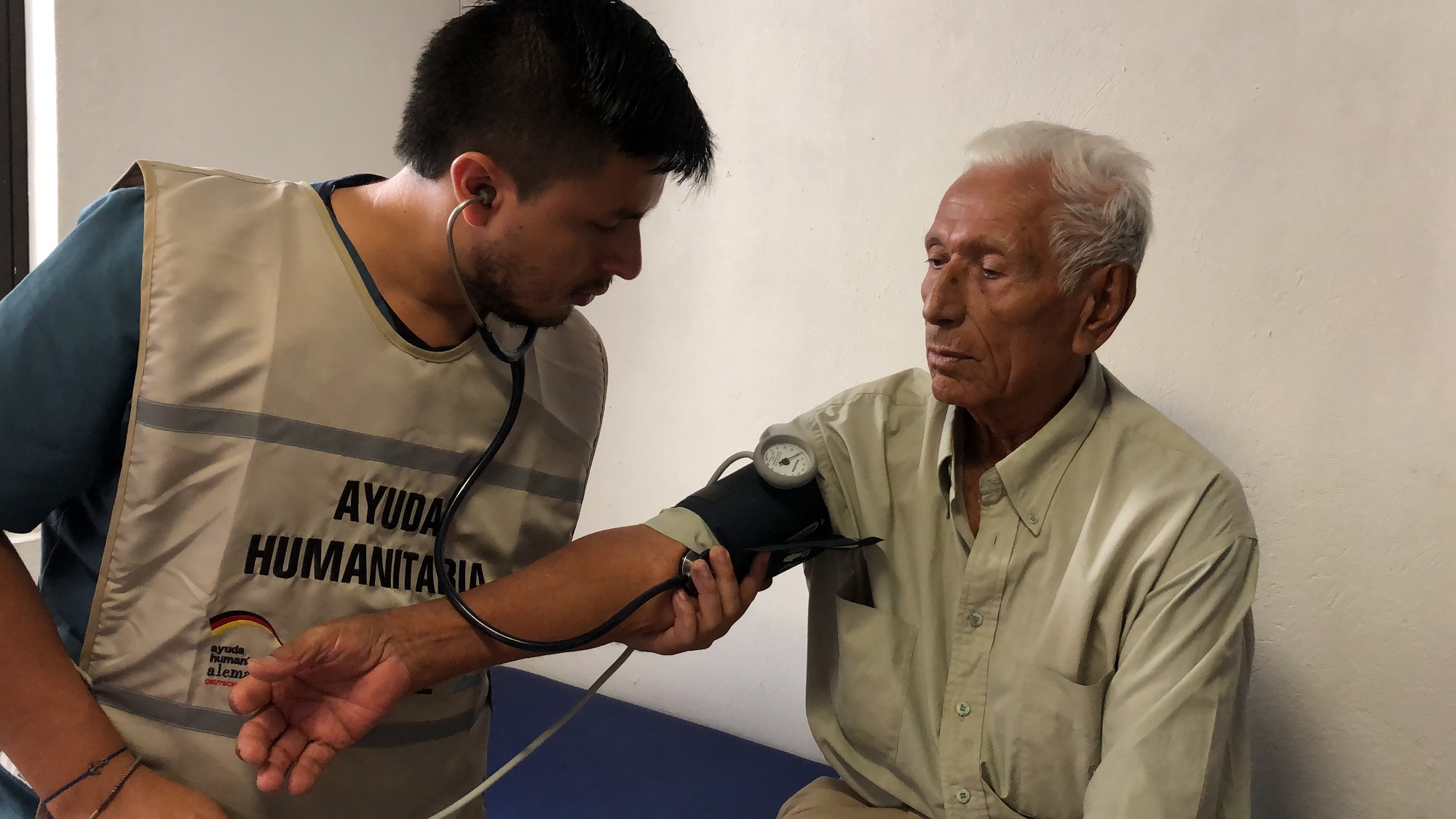 During these sessions, up to four doctors, two psychologists and nutritionists work on two days. They treat around 200 patients a day. "In addition to the resident population, more and more Venezuelans are coming to the sessions," says Antonio, who jumps from floor to floor to keep all activities going. "In the meantime, we have also planned special days just for the numerous Venezuelans who have settled here". In addition to relief supplies and basic equipment such as mattresses and cooking utensils, the project provides psychosocial counselling. "We have already had cases of attempted suicide," says Antonio. "Through this offer we can try to support people and lead them out of the crisis."
Health services are also available to Sergio and his autistic son Alberto. What he needs, however, is an appointment with a neurologist to have his son thoroughly examined. With Antonio's help, he has the prospect of soon getting a health card despite his lack of papers. "This is my very first goal. Then I want to apply for a visa so that I can live here legally and with correct papers," says Sergio. If he does not manage to do this by January, he and his son will have to return to Venezuela to renew the expired entry stamp. That means enormous stress, a lot of money and no certainty of coming back. But that is what he wants in any case. Despite the difficult circumstances, he has found a new home in Comuna 8 and people who support and welcome him.
The project activities are financially supported by the German Foreign Office and donations.