Escape From Sexual Violence
Berlin / Kampala, 18 June 2020
Sexual violence leads to serious psychological and physical injuries among its victims. As many perpetrators have no penalties to expect, sexual violence is systematically used as a weapon in conflicts worldwide. Affected girls, women, boys and also men are forced to flee because of stigmatisation and the threat of renewed assaults. The 17-year-old Margaret (name changed) from the Democratic Republic of the Congo and her family have found shelter in Uganda. There, they are supported by our partner organisation ACORD.
Margaret was 15 years old when she was raped. She dropped out of school because of the resulting pregnancy and became the mother of a girl at a very young age. Only a short time after that her father died due to the conflict in the Democratic Republic of the Congo. Suddenly the family's livelihood was no longer secured and Margaret had to find a way to provide for her daughter. Together with her mother and eleven siblings, the family fled to Uganda and arrived in the Kyangwali settlement near the border of their homecountry. This is one of hundreds of exemplary cases that have been taking place hidden away in the east of the Democratic Republic of Congo for years.
Uganda: Chance For A Collective Restart
Margaret is one of the few affected people who speak openly about it. According to a United Nations report, there were 1,049 registered cases of sexual violence as a result of the armed conflict in DR Congo in 2018. It's likely that the number of unreported cases is significantly higher, and which usually happen when victims walk to school or fetch water. Especially in the provinces of North and South Kivu, individual and group rapes are systematically committed by state forces and rebels. In North Kivu, Johanniter offers health care and legal support to those affected by the disease.
For Margaret and her family, leaving the country was the only option. Like any other young girl and female refugee, Margaret and her mother Charlotte were assigned a small plot of land upon arrival in Kyangwali. Usually not larger than 8x15 meters, this piece of land is a lifesaver and a new beginning for refugees. "Uganda host more than 1.4 million refugees since 2017 and continues to pursue an open refugee policy despite enormous challenges," says Gilbert Onwonga, Country Director of Johanniter in Uganda. The Refugee Host Population Strategy (ReHope), for example, provides equal support to refugees and host communities, promoting coexistence and a joint path out of poverty.
Assistance with Agriculture and Psychological Counselling
Together with the local partner organisation ACORD and CEFORD, Johanniter contributes to this strategy. While CEFORD is forming and training farming communities in the Rhino refugee settlement further north, ACORD is working within more than 120,000 refugees in Kyangwali. "We are looking at this as an emergency activity as they need food now, but in long term we are also helping develop the agricultural skills amongst the refuges community to use at home upon a possible return to their countries of origin", explains Gilbert Onwonga.
ACORD staff trained Margaret and her relatives on arrival in vegetable gardening and they received seeds. In addition, ACORD carries out regular home visits and offers psychological counselling, which is particularly important for traumatised girls and women like Margaret. Today some vegetables grow on their small plot of land, which improves their nutrition and household income. "We have learned how to grow food on a small piece of land and protect the vegetables from disease," says Margaret. Her wish is to work in a beauty salon or as a tailor in order to support her daughter and the large family.
The project in Kyangwali is financially supported by the German Federal Ministry for Economic Cooperation and Development (BMZ).
Facts about refugees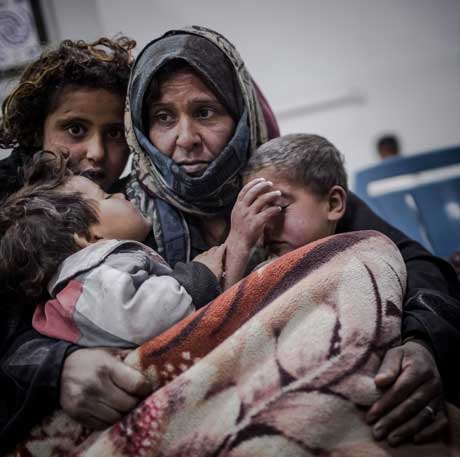 On the occasion of World Refugee Day on 20 June, the UN refugee agency UNHCR announced that at the end of 2019 ...
Over 79.5 million people worldwide were refugees
26 million of these people had fled their homes due to conflict, persecution or serious human rights violations
40% of the world's displaced persons were children under 18
45.7 million people were refugees within their own country
The vast majority of refugees seek protection in neighbouring countries. There they are usually accommodated in refugee camps under precarious conditions. Since the beginning of the corona pandemic, the situation has intensified in many camps, as it is usually impossible to keep sufficient distance. A lack of sanitation and health care in many places makes it even harder to contain the virus. The partial or complete closure of borders does not stop with asylum seekers, of whom there were more than four million in 2019. The right to asylum has in fact been suspended for refugees in recent months and they must return to countries where their life or freedom is in great danger.