Hot meals for refugees in Moldova
Since April, Eco-Razeni has been providing hot meals to around 300 refugees from Ukraine. The Johanniter partner organisation combines aid with training and empowerment of people, so that they have a better chance on the labour market.
"Small country, big heart" - with these words, Veronica Melinteanu from Eco-Razeni expresses what is currently happening in the Republic of Moldova. The small country between Romania and Ukraine with its 2.7 million inhabitants has at times taken in over 300,000 refugees who have fled the war. Mainly poorer families have stayed in the small country because they cannot afford to travel on to other European countries. They hope to return soon.
Solidarity despite their own pressing problems
Many Moldovan residents have opened their doors to the refugees, even though they often have to struggle with immense economic and social problems themselves. Moldova is one of the poorest countries in Europe. Only one in ten refugees stays in state-provided accommodation; the vast majority gets support through private solidarity. Veronica, too, has moved in with her parents to offer her home to her Ukrainian guests. They have become part of her life.
During the day, Veronica works for Eco-Razeni. The Johanniter partner organisation runs its own social catering service called "Floare de cires". It offers a comprehensive training programme that enables women and men to take on what is often their first "real job" in the catering sector. "As the trainees learn how to prepare and serve local and international food, they grow in self-confidence and for future leadership roles," explains Florian Beck, Johanniter's Programme Officer for Ukraine and the neighbouring countries, who visited the project on site in mid-June. In a safe and supportive environment, people with disabilities learn basic vocational skills at Eco-Razeni, while also being able to get involved in helping refugees. "The project is a win-win for both sides," Beck says. "It also shows that people who need our support today may be the ones supporting others tomorrow. Humanity can be passed on."
"First I was a person in need, now I help people in need."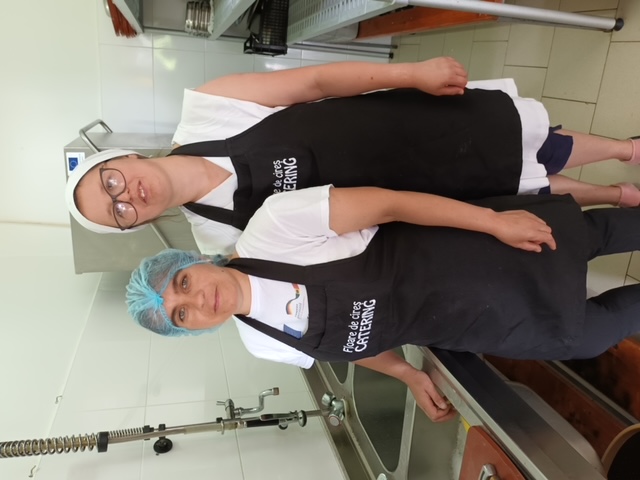 Two of the employees are Julia and Irina. In the early stages, they had to peel up to 20 kilograms of potatoes in one day until their hands were sore, they recall. But they grew with their new tasks, did not feel exhausted, but happy. "In the beginning I was a person in need, now I help people in need," Irina sums it up. The food that Julia and Irina prepare is delivered while still warm to temporary facilities for refugees and distributed there. Smaller centres in particular receive insufficient support and are dependent on such help. Eco-Razeni, in a joint project with the Johanniter and with the financial support of the Rotarians of Münster, provides up to 300 refugees with warm meals directly in their accommodation.