Ecuador: Christmas with a turkey
Sandra Weppler, head of our office in Quito, talks about Christmas traditions in Ecuador and her festivities with a half Ecuadorian and half German family.
Our country office is based in the capital Quito, which lies almost three thousand metres above sea level in the Andes region of Ecuador. This makes it the highest national capital in the world. Despite the warm temperatures, the current rainy season in the winter months reminds Sandra of a German November. It's different for the people in the coastal region because many of them celebrate Christmas on the beach.
Church, midnight mass and nativity play
Nine days before Christmas, Ecuadorian families meet, pray together and read to each other from the Bible. This happens every evening until December 24th and is accompanied by traditional Christmas carols. There are usually pastries as well. Instead of biscuits, pristiños are served. "They are a bit like a German "Pfannkuchen", only without the filling. The dipping sauce that comes with them reminds me a little of maple syrup," Sandra says.
The church Iglesia de la Compañía de Jesús is the venue for the midnight mass. The special feature of the church is that the interior is decorated with about 7 tonnes of gold. Orchestral concerts are also held here, as in other churches.
The nativity play, which we know in Germany, has a larger role in the Christmas season in Ecuador. Similar to the St. Martin's procession, the children dress up like characters from the nativity play and re-enact the search for shelter from the Bible. You could say a travelling nativity play. There is also a competition for the best nativity scene. In this competition, nativity scenes are built and displayed all over the city. A committee examines them and then chooses the winners.
Christmas dinner and bazaar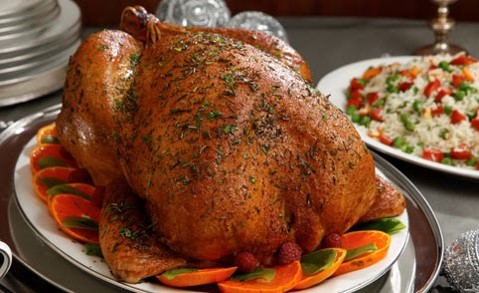 Christmas products can be bought at the bazaars in December. "Of course, there are Ecuadorian specialities here. But you can also feel the influence of other countries. Among other things, Advent calendars or even German gingerbread, which are imported or also come from German bakeries in Quito." Eggnog is also a popular drink and gift at Christmas, often even homemade.
But you can search a long time for the German Christmas goose here. Instead, Ecuadorians like to eat turkey. At least those who can afford it. In the lower classes, country chicken is served. "But the chickens and turkeys are hardly comparable to those in Germany," Sandra tells me, "because the chickens are huge, and the turkey weighs at least 6 kilograms."
On December 24th, the time has come, and the presents can finally be opened. The 25th of December is a public holiday in the country, but after that, it's back to work. Only if the 25th falls on a Sunday, is the day after free as well. Since that is the case this year, Ecuadorians can enjoy Christmas one day longer.